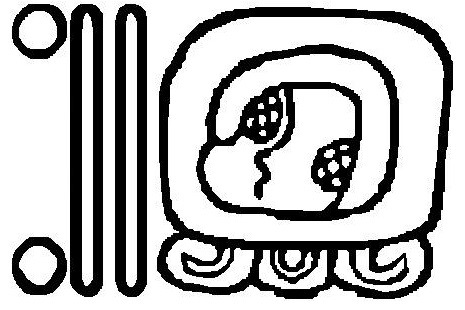 Today could be seen as a form of life review, but not with regards to assessment, more towards past ideas. How can those great ideas you had be brought together?
N'oj, is the nawal of the brain, the problem solver is a bringer of inspiration and solutions. Everyday we learn something new in general our level of experience rises as we travel our life path. Some of this is of immediate use and some of it seems irrelevant at the time, but it all seems to get filed away somewhere. Sometimes those concepts or ideas become relevant with the perspective we gain as we move further along our life path.
As we come towards the end of our journey through the Kame trecena, the time of our spiritual transformation, we might ask ourselves what we choose to transform into. What is our grand plan and how can we make it happen?
The combination of N'oj with the number 12 gathers our past thoughts and ideas together, bringing ideas from our life experience into one unified plan of action.
Today we have the opportunity to delve into the past to bring forth inspiration. The intellect and problem solving abilities N'oj bestows allow us to put together the parts of our personal jigsaw that we couldn't recognise as relevant before.
The nawal N'oj is the nawal of thought, of intelligence and intellect. Within the count of days, there are two geniuses. B'atz is the creative genius, N'oj the intellectual one. N'oj is an energy of masculine, logical thought. N'oj is the problem solver, it gives ideas and solutions which work in the real world. N'oj gives a different way to understand situations, and through this ability comes innovation. It is thought, but also understanding and, indeed, knowing. As such, N'oj is also a day associated with divination.
This energy is not necessarily social, it can lead to becoming absorbed into one's work, lost in one's thoughts. The influence of N'oj can create ideas which may be very much ahead of their time. Do not be surprised if ideas you have on this day take a little time to catch on, the people you express the ideas to may need a little time to process, to see the genius within the idea.
N'oj is also one of the classic year bearers, or year lords. As a year bearer it is thought to be one of the more beneficial and benign energies. This year, 2016,  is the year 4 N'oj.
The number 12 is the penultimate number. In some ways it can be seen as the last Earthly number, the number 13 representing the spirit world. We travelled through the mortal world with 1 through 6, then the other world with 7 through 12. In this way 12 can be seen as a point of bringing all of the experiences into one bundle for presentation to the spirit world as we step into 13. As such, the number 12 brings a wealth of experience into one place, it is rather like writing an autobiography. It is totality, all that is, brought together.